Physician, Educator, Storyteller. He hosts this website for "Living the Present Moment" as a conscious journey of Body, Mind, Emotion & Spirit. Holistic and integrative, his practice includes Tai Chi and Yoga, Craniosacral Therapy, Healing From the Core, Meditation. Always exploring his edges, he shares them in the blog, newsletter, courses, and online study group.
Latest posts by Dr. Joel Ying, MD (see all)
"Friends don't let friends do silly things alone."
~ from BlueMountain e-card
To all my friends out there that get silly with me, you know who you are. Thank you!
I'm looking forward to a New Year of more fun, more silliness, more play.
As a child, I remember the day that I decided to grow up and put away the toys. At six years old, in a new country, I became a serious student, older brother, and son. Today, when I look back, I realize that I never gave up play. I climbed trees, drew pictures, played board games and cards. I had simply moved from "childish toys" to what a six-year-old considered "grown-up."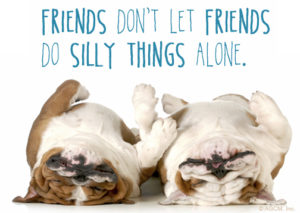 As an adult, it took me a while to realize that life is better because of play and playfulness. It's just more fun! More creative! More joyful! For this lesson, I thank my friends who get silly with me.
Today, I find balance between the serious and the playful. (Ok, I'm not always balanced, but I try.)
Researchers continue to explore the importance of play in the development of our brains, our self-confidence, imagination and creativity.
Watch researcher, Stuart Brown: "Play Is More Than Just Fun"