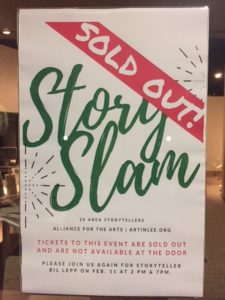 On Wed, Jan 25th, 2017, at 7pm, history was made.  "StorySlam: An Evening of Storytelling" at Alliance for the Arts in Ft. Myers, Florida, was a complete success! Storytellers of the Round Table put on another sold-out performance with a repeat of our sold-out show from April 2016 at the Sugden Theatre in Naples, Florida. Read prior blog post.
Congratulations to all our tellers (in order of appearance) for a stellar performance:
Mary Lou Williams, Dwight Elam, Robert David, Rhonda Brazina, Keith Connes, Lisa Leonhardt, Joel Ying, Pam Minton, Marilyn Graham, and our emcee, Scott J. Vail.
The Magic of Storytelling
The crowd of 130 was spellbound … captivated, inspired, and entertained. Laughter and tears. Storytellers weaved personal stories, folk tales, fractured tales, tall tales, and more to showcase the range of storytelling. From walking fish to talking dogs, finding birth parents to fear of flying, fantastical stories to the everyday happenings, we had it all.
Storytelling connects and bonds an audience. It fractures our everyday personal frame of reference. We step out of our lives for a moment and step into the world of story. We gather the laughter, tears, or wisdom, and step back into our own lives with a new perspective.
When we are trapped in our own limiting beliefs, it is the power of story that can give us another reference point to break through into the truth and new perspective of the present moment.
We have more shows and events coming up in March and April 2017. Check them out below.
For our storytelling calendar, visit: opendreaming.com/storytelling-events
Upcoming Storytelling Events
Bil Lepp "King of the Tale Tale" returns to Southwest Florida!
Not to be missed. This rock-star of the storytelling world will have you rolling out your seat with laughter. All events will have different material, so attend all 3! His evening performance sold out last year! Get tickets early.

FRI Feb 10th

 

7pm-9pm


Workshop ($20) "The Lego Method of Telling" Workshop
SAT Feb 11th 2pm-4pm
Performance ($15) "Fortune Cookies" – Matinee


SAT Feb 11th

 

7pm-9pm


Performance ($15) "More Fortune Cookies" – EveningAlliance for the Arts, 10091 McGregor Blvd, Ft Myers, FL 33919
Click on the above links for tickets sales and membership discount.
Box Office: 239-936-3239
MON Apr 3rd 7pm-9pm
The Elephant:
Stories You'll Never Forget
Storytelling comes back to Sugden Theatre for the second year in a row! with ALL NEW stories… This is a BIG DEAL … hence the new name.
Join ten local storytellers and our spectacular emcee for an evening of laughter, fun, and excitement. We've saved our best stories for the big stage!
Sponsors: Naples Advanced Toastmasters and Storytellers of the Round Table.
Sugden Theatre (Tobye Hall), 701 5th Ave S, Naples, FL 34102
Tickets $20, ON SALE NOW!
Online Tickets: www.naplesplayers.org
Box Office: (239) 263-7990
Physician, Educator, Storyteller. He hosts this website for "Living the Present Moment" as a conscious journey of Body, Mind & Spirit. Holistic and integrative, his practice includes Tai Chi and Yoga, Craniosacral Therapy, Healing From the Core, Meditation. Always exploring his edges, he shares them in the blog, newsletter, courses, and online study group.
Latest posts by Dr. Joel Ying, MD (see all)